At Andersen Caledonia we have recently completed our cleanroom renovation at our facility in Bellshill, Glasgow. Combining these renovations with our existing sterilisation, laboratory testing and validation capabilities enables us to offer a fully integrated, effective solution for our customers.
ISO Cleanroom Standards
As part of the renovations, in accordance with ISO Cleanroom Standards, our cleanroom has been upgraded from an ISO 8 to an ISO 5 cleanroom. Cleanrooms are classed dependent on the cleanliness of the air they contain which reflects the number and size of particles per volume of air. ISO 1 has the highest quality of air and ISO 9 has the lowest quality of air. That said, the air in an ISO 9 cleanroom is still cleaner than a standard room.
ISO 14644 Cleanroom Standards Classification Chart

Our improved ISO 5 Cleanroom Standards classification has been achieved by increasing the number of High Efficient Particulate Air (HEPA) filters in the cleanroom and installing a new air handling unit. HEPA filters have heightened effectiveness over conventional filters in removing cleanroom air pollutants. HEPA filters have guaranteed reliability as they must meet the HEPA filter standard which specifies the extraction of at least 99.97% of air particles that are 0.3 microns or smaller.  Air handling units control the temperature, humidity and pressure of cleanroom air by re-conditioning the outside air to ensure only suitably high quality air is supplied to the cleanroom.
Other additions to our cleanroom include ovens for depyrogenation and a new sealer for packaging of products before sterilisation.
Find out more about our cleanroom services here: https://andersencaledonia.com/services/cleanroom-packing/
January Renovation Plans
Our cleanroom will be split into two self-contained sections by a see-through screen which will enable full visibility of operations by our Manufacturing Manager. No more than one job should ever be completed in the same cleanroom: splitting the cleanroom into two will enable us to increase our capacity whilst ensuring there is no cross-contamination between different jobs.
Before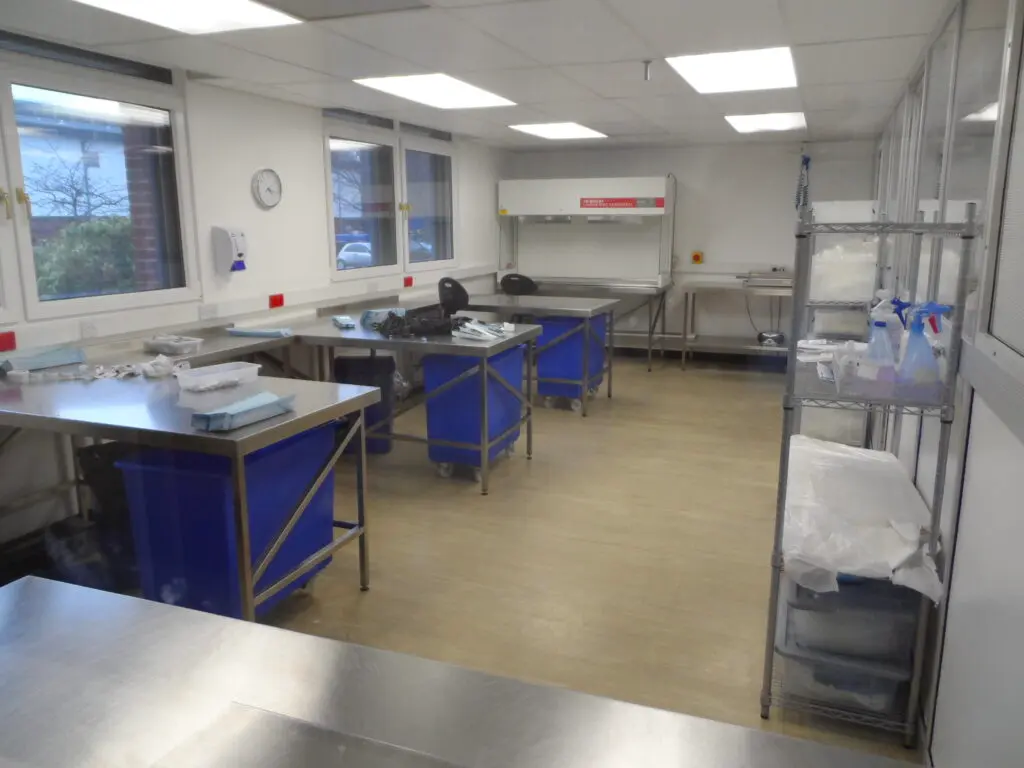 After